✅Fast refund>>100% Money Back Guarantee
✅Discount >>To celebrate the sale of more than 90000, we cut the price to USD$29.99 TODAY ONLY!!!
✅Limited Discount Time>>End the Price Will Be Increasing Back up to $59.99!
🔥OVER 9361sold in last 24 hours🔥

🚿 Multiplies standard pressure by 200% | Decreases water consumption by 35%
🚿 Reduces limescale and filters chlorine and bacteria
🚿 Stop button to save even more water
🚿 Universal knob easy to install

Enjoy a spa-like experience at home

The new Nautika® propeller showerhead is a breathtaking step forward in the showering experience. It transforms a daily ritual into


Turbocharged technology

The new Nautika® propeller showerhead uses innovative hydrodynamic spinning turbo settings to dramatically increase water pressure and save you money.

Increases the water pressure in your shower by up to 200% and reduces water consumption by up to 35%.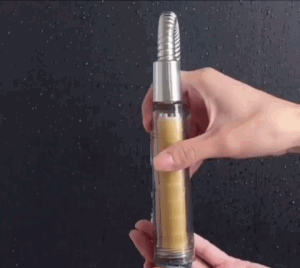 PP cotton filter
Our PP cotton filter significantly reduces chlorine and fluoride, toxins, heavy metals, bacteria, pesticides, rust and odours in shower water, improves water purification and maintains the water's pH balance.



Protect your skin and hair
Bacteria and minerals accumulated in your current head are damaging and drying out your skin and hair. The hair suffers at the root, which also causes hair loss.

However, it is possible to filter out these microbes and bacteria. Thanks to our integrated filters in the head, you will feel the difference immediately on your skin and hair.


EcoFlow stop button
EcoFlow shut-off button turns off the water and maintains the temperature without the need to use the water valve - convenient for washing long hair, children and pets.